Return to Headlines
Meet the Cabinet: Assistant Superintendent for Performance Improvement Michael Giles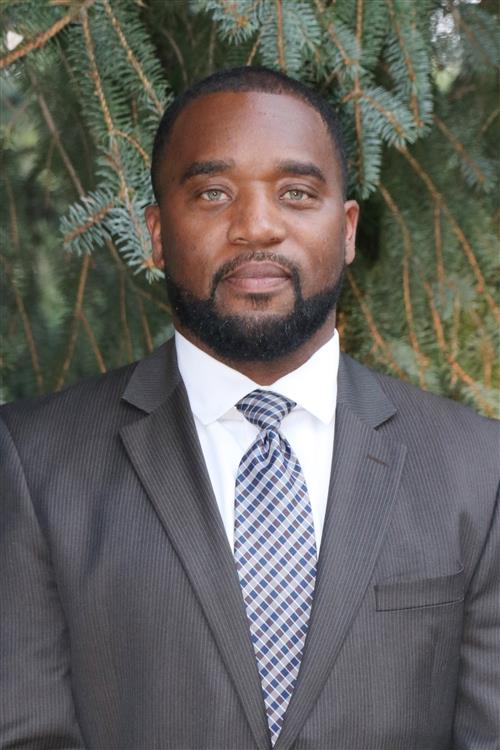 Welcome to "Meet the Cabinet," a series of stories and videos focused on members of the Cherry Creek School District administration. This series is designed to highlight the work and experiences of those who help steer the direction, vision and everyday operations of Cherry Creek Schools.
Michael Giles has discovered different ways to make a difference for students since coming to the Cherry Creek School District in 2002.
Giles is currently the district's Assistant Superintendent for Performance Improvement, but he's played myriad roles in CCSD since he began as an educational counselor at Falcon Creek Middle School. That initial post served as a gateway to successive positions across the district as dean, assistant principal, principal and as the executive director of the district's Office of Inclusive Excellence.
This wide-ranging professional path has offered him plenty of opportunities to stray from his comfort zone. Giles' interest in education has always been rooted in making a positive impact on students; he's long cherished the opportunities to work one-on-one with kids to help them find "opportunities to be brilliant."
But a résumé in CCSD that's included a number of administrative roles has proven that there's more than one way to have that kind of effect on students.
"I had no aspirations of being an administrator. In my heart, I've always wanted to be a catalyst of opportunity for young kids, no matter what I did … It's always been about opening doors for kids," Giles said. "I always feared the political game of administration, but the more I started to travel down that path, the more I saw an ability to have a systemic impact and to have more leverage to create access and opportunity for all students.
"That's the most engaging piece that keeps me on that administrative track," he added.
Giles, a native of Queens, New York, moved between cities growing up, following his father's military assignments at posts ranging from South Carolina to Georgia to England. The family eventually landed in Colorado Springs, and Giles graduated from Falcon High School.
His path in higher education was similarly nomadic. Upon graduating from high school, Giles earned a football scholarship to Adams State, but Alamosa wasn't an ideal fit. In search of an opportunity to continue his dream of playing college football, he transferred to Scottsdale Community College in Arizona. There, he went on to obtain his associate's in general studies and earn another scholarship to play football at Colorado Mesa University. At Colorado Mesa University, Mike finished his athletic career while earning his bachelor's degree in sociology and criminal justice. Ultimately, he earned his master's degree from the University of Phoenix, where he would also eventually complete a program affording him an Administrator's license. These experiences at different schools throughout his K-12 and college career would ultimately color the perspective Mike brings to students.
"I attended eight different schools through K-12 and attended three different colleges. That's not the 'normal' story you hear about an academic track," he said. "I was able to maintain good grades and make connections to the community. I was able to attend three different colleges, play four years of football and still graduate within those four years. I was able to move forward in a positive manner. I tell students that my story is evidence that there is no right or wrong way to succeed. As long as you're focused and committed to your goals, it can be done."
Following jobs after college as juvenile corrections counselor in Grand Junction and Denver, Giles started as a counselor at Falcon Creek. It was a post he accepted with some hesitation; if he hadn't been offered the gig immediately after the interview, his path may have turned out very different.
"I thought that this affluent, white community had no need for a young, black male to come in and do any work in Falcon Creek. I didn't think that was where I needed to be," he said. "But I found out very quickly, and I tell people this all the time, that white students need to see images of successful people of color in front of them on a regular basis. The point is, that equity work is not just for students of color; it's for all kids. I learned that very quickly."
The valuable perspective gleaned during his time at Falcon Creek would ultimately help steer his work as the executive director of the district's Office of Inclusive Excellence and as Assistant Superintendent for Performance Improvement.
Since 2014, that work has focused on creating awareness and consciousness around issues of race, racism, diversity and culture. Along with the rest of the district's equity team, Giles has helped create resources for students, teachers and administrators alike, tools designed to address fundamental questions about how we all interact with and perceive one another.
"My goal is to create greater consciousness throughout the entire district in understanding the implications of race, racism, diversity and difference, and not from a deficit mindset, but from an asset-focused mindset," he said. "Generally speaking, I think a lot of us walk through this world not understanding all the biases that are at play. Unchecked, we create systems that marginalize people, that oppress people.
"In this role, my job is to interrupt those biases and those narratives that perpetuate the institutionalized racism," he added.
This core mission has found expression in myriad ways across the district, including the creation of racial awareness programs and cultural immersion courses for students and staff. On a broader level, the work has become a fundamental part of the strategic plan for the future of the district. That plan includes eliminating achievement disproportionalities by race, creating equity for all students and boosting the percentage of all CCSD students who meet college and career readiness benchmarks measured by state assessments.
It's work that impacts every single building across Cherry Creek Schools' 108 square miles, but the sheer scope of the mission hasn't dimmed Giles' passion for reaching individual students. With two daughters currently enrolled in Cherry Creek Schools, Giles is well aware that the work on broader policy has an impact on individual students, and he's committed to finding ways to keep up the connections that first drew him to a job in education.
"I always try to find some way to stay connected to students," Giles said, pointing to his work with site-based student groups and programs like AVID at individual buildings. "It's vital. I wouldn't be able to breathe in this job if I didn't find ways to give back to kids."
Posted 4/16/2019 at 11 AM